Board of Governors Award of Distinction
The Board of Governors Award of Distinction is the Institution's highest tribute to individuals or groups within our community. This prestigious award was established in 2004, to honour those individuals with an exceptional commitment to supporting higher education for the people of our region.
Criteria
Through this award, the Board of Governors will honour individuals whose actions have made exceptional contributions to our community and to the advancement of higher education.
In particular, the nominee must be known to:
Promote goodwill between the Institution and the community.
Further the aims of the Institution in creating partnerships - social, cultural or economic.
Provide services above self and one's employment, which involves the contribution of personal time and effort to benefit others.
Demonstrate a willingness to assist the Institution in advancing education for our region.
Nominations
This award is open to groups and/or individuals in Alberta including non-alumni members of the public, alumni of Northwestern Polytechnic, and members of the Institution's academic and support staff. Posthumous nominations may be considered. The Board of Governors will select the recipient at an in-camera meeting.
Past BOG Award of Distinction Recipients
Board of Governors Award of Distinction 2021: Jane Manning
Since arriving in the Peace Region in the early 1980s Jane Manning was dedicated to serving the community, including the NWP Board of Governors between 2016 and 2019.
A career opportunity brought her to the community but she met and fell in love with a widowed homesteader from Silver Valley. They married, and Jane embraced a new way of life with Don Seekins, his farm, and four kids.
Along with this new way of life she had a 40-year career that crossed the nursing spectrum from a 30-bed hospital, directing Grande Prairie Public Health, transitioning to regionalized Health Services during which she moved into Senior Management with a portfolio that included Continuing Care, Home Care, Regional Health Services, Rehabilitation, and Property Management.
NWP's nursing program had just started when Jane arrived in the community. Knowing that if nursing students graduated in the region, they'd stay and work in the region, she was strong supporter of the Bachelor of Science in Nursing collaborative degree with the University of Alberta. Jane served on the NWP Nursing Advisory committee and supported student accessing practicum experiences in the region's health care facilities.
Retirement offered more time to serve the community, particularly its more vulnerable members. Jane worked on the Wapiti Community Dorm Society board, which operates Rotary House Emergency Shelter, the Interagency Council on Homelessness, Seniors' Advisory Council of Alberta, AHS's Patient and Family Advisory Committee, AHS Strategic Clinical Network for Population Health, United Way and Rotary.
Jane Manning's Acceptance Speech
It is a great honour to receive the GPRC Board of Governors' Award of Distinction.

I was proud to serve with my fellow board members and play a role supporting the success of GPRC in the community and for its students.

I spent my career working with communities and health care professionals to improve the lives of individual residents. The goal was always creating healthy and vibrant communities across northwestern Alberta.

Since retiring, my community involvement in organizations such as the Wapiti Community Dorm Society, Alberta Health Services, Rotary and United Way has been a continuation of that work by supporting residents with the services and knowledge they need to be healthy contributors to our communities.

The opportunity to be involved with GPRC and the work of its faculty and staff to provide students the knowledge and skills they need to achieve their goals was a natural extension of this healthy community building work.

This past year has been so difficult for so many ways for everyone. We've lost loved ones, missed celebrations, and just wished for normal times with family and friends. Hope that there are better days ahead is what keeps us going. I believe we have that hope because together we have built, and we will continue to build, healthy and resilient communities.

Thank you again for this honour and the opportunity to celebrate with all of you in this way.
Board of Governors Award of Distinction 2020: Bill & Maura Good
Bill and Maura Good left England in 1967 on a one-year plan to teach in Canada, leading to careers in which Bill taught and served as a principal for nearly 35 years, while Maura taught for 20 years, in and around having nine children.
Bill serves as a mentor to student teachers in the TEN program during their third and fourth year practicums. Maura served on the Grande Prairie Public Library Board, and has also been on the Grande Prairie Children's Literature Roundtable Board for many years.
The Bill and Maura Good Bursary for Teacher Education was established in 2014 by their family, who wanted to give them a gift that would have an impact in their community, and allow Bill and Maura to continue encouraging and supporting local students. The bursary is awarded to a third-year student from northern Alberta enrolled in Northwestern Polytechnic's Teacher Education North TEN program.
Board of Governors Award of Distinction 2019: Pete Merlo
Merlo served eight years on the Northwestern Polytechnic Board of Governors including three years as Chair of the Governance Committee and finished his term in June 2017 following three years as Board Chair.
Merlo is enormously dedicated to strengthening the Institution's community and was instrumental in leading the partnership between his company, LSM and NWP to develop and implement the sheet metal worker program. The program continues to be of great importance to industries across the region. Merlo also helped advocate for the Institution to become degree-granting, a milestone achieved in 2018.
Merlo has also been very active in the Grande Prairie community throughout the years. He served on the Board of Directors for Alberta Blue Cross representing Northern Alberta and was the Construction Committee Chair for the Centre 2000 project. He is the past President of Grande Prairie & District Chamber of Commerce, past President and current member of the Swan City Rotary Club, and founding Board Member of The Community Foundation.
Merlo was an active member of the VITAL Campaign Cabinet and continues to help the Institution better serve our region in making post-secondary dreams come true.
Board of Governors Award of Distinction 2018: Doug Morris
Doug Morris completed two terms as a member of the Northwestern Polytechnic Board of Governors in 2017 and has been dedicated to strengthening the Institution since he was a student and as a member of the NWP Wolf Pack.
Morris started at NWP as a student-athlete in 1976 and served as Athletics Vice-President on the Students' Council. He later became the head coach for the Wolves Badminton program, a position he held for 16 years and was inducted into the ACAC Hall of Fame. For his contribution to NWP programs and sport, Doug was inducted into the Wolves Wall of Fame.
Morris has also been very active over the years, serving as past chairman of the Alumni Foundation Board and as a chartered member of NWP's forerunner fundraising group, the Wolf Pac Booster Club. NWP chose Morris to receive the Alberta Centennial Medal in 2005.
Board of Governors Award of Distinction 2017: Vincent Vavrek
Vince Vavrek is a longtime Grande Prairie resident who attended Northwestern Polytechnic between 1976 and 1978 and who has worked tirelessly for this community and the Institution. As an NWP student, Vince served as Vice President of the Student Council.
He then continued to be active with the Institution throughout his career serving on advisory committees, as alumni association director, past chairman of the Alumni Foundation and director and past president of the Wolf Pac Booster Club. Vince served on the NWP Board of Governors starting in 2006 and in 2011 became the Board Chair. Vince continues to be a strong supporter of the institution, working with the Students' Association helping them continue to be a strong voice for students at NWP.
Board of Governors Award of Distinction 2016: Michael O'Connor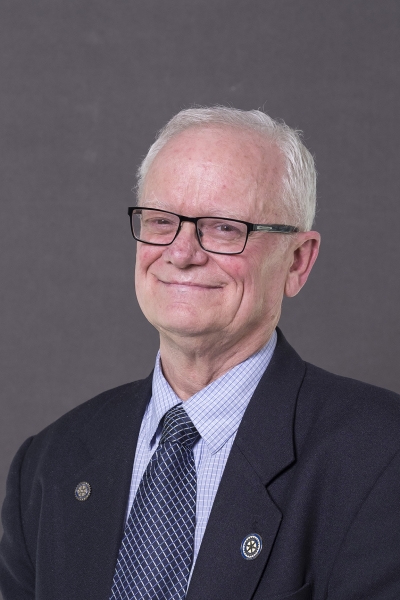 Michael O'Connor served as a member of the Northwestern Polytechnic Board of Governors starting in 2002 and became board chair in 2008. O'Connor moved to Grande Prairie in 1973 initially working at Proctor and Gamble. In 1978 he pursued a career in the construction industry. In 1985 he established Mike O'Connor Construction and in 1993 joined with Cliff Turner to launch what's now known as TurCon Construction Group.
All the while O'Connor has been active in the community as a volunteer with numerous community groups including Grande Prairie Live Theatre, Camp Tamarack, Alberta Wine Education Society, Grande Prairie and District Chamber of Commerce, Alberta Chambers of Commerce, Swan City Rotary Club, Crystal Centre Advisory Committee and the Christ Church Anglican vestry.
Board of Governors Award of Distinction 2015: Chris Andersen

Chris Andersen is a long time resident of Grande Prairie and is the former General Manager for CANFOR. He is actively involved in the Swan City Rotary Club and is a philanthropist and supporter of numerous Community projects.
Chris has been a special guest at NWP Business classes, for discussions on the topics of citizenship and philanthropy. Chris is the founder of an international Foundation that provides support to the people of Ethiopia.
Board of Governors Award of Distinction 2014: Fred & Ruth Estlin

Fred and Ruth Estlin are well-known for their support of a wide variety of community activities throughout the Peace Region, and since 1975, they have had a close relationship with the College. Fred has taught a variety of courses over the years, while Ruth has been enrolled in a Fine Arts course almost every semester since 1979!
Today Fred continues his College involvement as a volunteer for the Centre for Research & Innovation, working with local inventors to help further their projects. Ruth has continually expressed her appreciation through volunteering her efforts to help organize events such as the President's Ball.
In January of 1996, Fred assumed the mantle of Chair, Board of Governors for NWP. During his six-year tenure, he and Ruth came to fully understand the need to support the College, and have made many gifts to the College over the years.
Board of Governors Award of Distinction 2013: Fletcher Bootle

Fletcher Bootle has long been known for his service to our community and to our College. He has served two terms as Chair, GPRC Board of Governors, has served on the GPRC Alumni Foundation Board, and supports the Bootle Family Bursary Fund at GPRC.
He is an active Rotarian, who has held many posts and is a multiple recipient of Paul Harris Fellow, Rotary's highest honour. He continues a long involvement with the Grande Prairie United Way Campaign, which he Co-Chaired with wife Diane in 1999, then serving as Board Chair for some five years. Fletcher's community involvement demonstrates an ongoing commitment to youth. He is a Board Advisor to the Grande Prairie Youth Emergency Shelter Society, is serving a second 3-year term on the Board of Directors for Careers The Next Generation, and is the recipient of numerous awards and honours including the Alberta Centennial Medal 2005.
Board of Governors Award of Distinction 2012: Elizabeth (Beth) Sheehan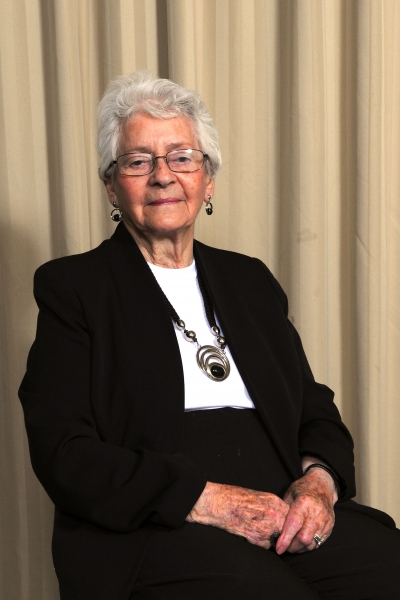 Beth Sheehan established the first Regional Home and School Association in the South Peace, and was regional director for several years. She also edited the Alberta Home & School News from 1964-1965. Her lifetime involvement in the communities of the South Peace has been extensive, and her research, writing and photographic skills are a consistent thread throughout.
Beth Sheehan is well-known as the author and/or contributor to several of the regional history books published in the area. Her collection of historical information and photographs has become an important component of the South Peace Regional Archives. Elizabeth Sheehan continues to be an enthusiastic supporter of educational and cultural events in the area, and is a particular friend to GPRC as generous donor and alumna. She was among the first students of the College when it was established, as an adult student in the general arts.
Board of Governors Award of Distinction 2011: Vi Sunohara

Vi Sunohara is widely known as a "Trailblazer" and was listed among Alberta's 50 most influential people in 2005. She has served on the boards of Grande Prairie Regional College (2003 - 2009), Grande Prairie Chamber of Commerce and as a regional director of the Progressive Conservative Association of Alberta.
Vi was also active in Grande Prairie's Rotary Club, the annual girl's hockey school, Peace Region Employ-Ability Services for Persons with Developmental Disabilities, Community Association for the Homeless and the Canadian Orthopedic Association. She is well known for her contributions to improve the financial status of women, encouraging young women entering the workforce and working to help them achieve their aspirations.
Board of Governors Award of Distinction 2010: Kay & Mae Trellé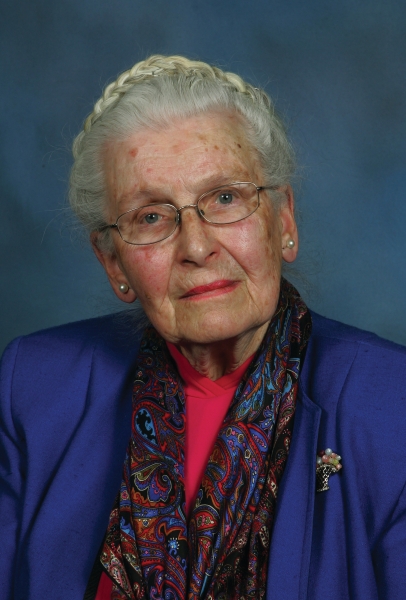 Kay and Mae Trellé, have devoted their lives to higher learning. Kay Trellé achieved the equivalent of a Master's degree in Aeronautical Engineering, and continued to add to his knowledge throughout a career which included work on the Poseidon Missile, the Cruise Missile, and the Moon Buggy which was used on the first moon landing. Kay concluded his career as a Professional Engineer in the Triumf particle physics laboratory which served three universities: the University of British Columbia, University of Victoria, and the University of Alberta. Mae Trellé, throughout her career as a nurse, regularly added post-graduate study to her nursing certification, including a study of midwifery in Scotland, and a later specialization in OR Management.
Board of Governors Award of Distinction 2009: William (Bill) & Margaret Bowes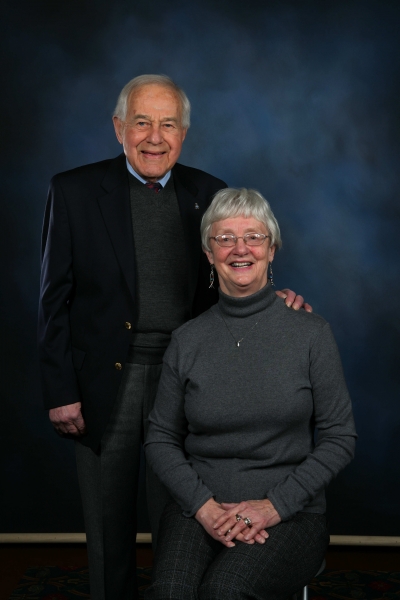 The names Margaret and Bill Bowes are synonymous with Community in Grande Prairie. This couple has been integral to the development and support of our community – from school to college, from cleaners to newspapers to real estate, in music festivals, church and Rotary – their mark is everywhere. In 1995 the Bowes Family Crystal Gardens was opened in conjunction with the Canada Games Arena, an enduring part of the Bowes legacy to our community. They have several generations of neighbours and friends and students and employees and fellow community members who have benefited for over 50 years from the energy and dedication of this remarkable couple. The Bowes' have a long record of generous donations to the College, and served as Honorary Chairs of the President's Ball 2004. Margaret is a tireless volunteer in the College every spring during the Music Festival.
Board of Governors Award of Distinction 2007-2008: Paul J. Evaskevich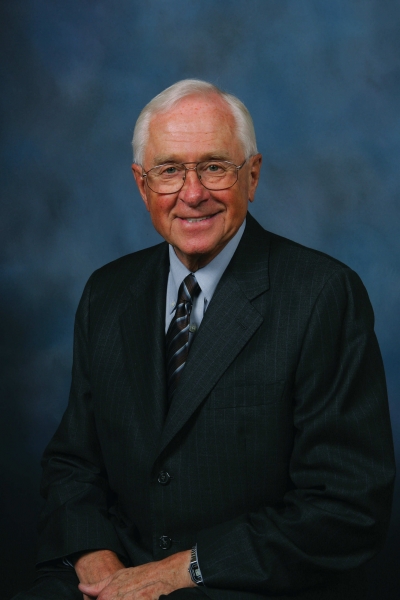 Paul J. Evaskevich has earned numerous awards and recognitions for his contribtuions to his community. At Grande Prairie Reigonal College, he served on the Board of Governors and is a founder and Past Chair of the GPRC Foundation. The Paul Evaskevich Valedictorian Award was established at GPRC in 1985, and continues to annually honour a student who has demonstrated academic merit, and who has made a contribution to college life. Grande Prairie Regional College has been greatly honoured and supported by the generosity of Paul and Coreen Evaskevich. In 2005, the couple served as honourary chairs of the GPRC President's Ball.
Board of Governors Award of Distinction 2006: Lyle D. Carlstrom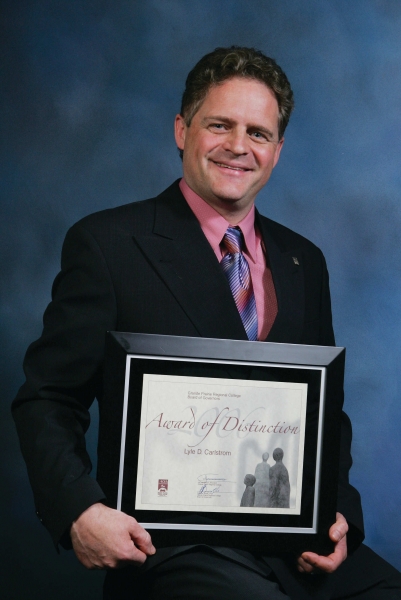 Lyle D. Carlstrom is a Grande Prairie lawyer and an alumnus of GPRC who is closely involved with advanced education and countless other community activities to strengthen the social fabric of our region. Lyle Carlstrom is vocal about the importance of post-secondary education in general, and about the benefits of a College in the Peace Country in particular. He served several years as Chair of the GPRC Alumni Foundation Board of Directors, and has contributed generously of his time and resources in support of Grande Prairie Regional College.
Board of Governors Award of Distinction 2005: Charles Leslie (Les) Longmate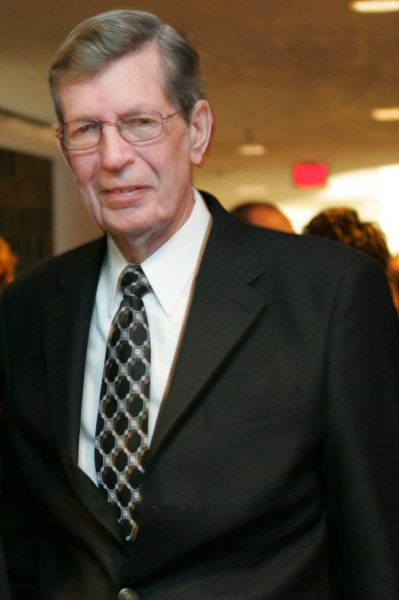 Les Longmate is a successful business entrepreneur who has served on numerous committees and community organizations to improve life for the citizens of our region. Mr. Longmate was an Alderman of the City of Grande Prairie, sat on the GPRC Foundation Board of Directors and the Grande Prairie Public Library Board, the Police Commission. He is a staunch Rotarian, and has supported countless fundraising and community events. His profound sense of community is widely recognized, and honoured by this award.
Board of Governors Award of Distinction 2004: Clem and Muriel Collins

Clem and Muriel Collins were the inaugural recipients of the Award of Distinction in February 2004. The Collins' have always been tremendous supporters of Grande Prairie Regional College. Muriel Collins served as Chair of the College Board of Governors and Clem Collins has served as Chair of the Grande Prairie Regional College Foundation. They did this because of a deep commitment to our community, and a passionate belief in the benefits of post-secondary education, particularly for the people residing in the northern part of this province.