News Archives: Tom Wheeler - Featured Athlete of the Week
Wednesday, November 27th, 2019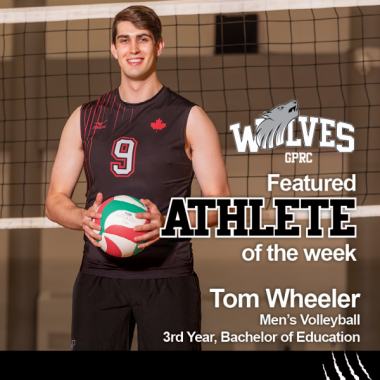 Name: Tom Wheeler

Jersey Number. Is there a story behind it? #9 – Not really, I picked 9 because my usual #11 jersey was too small for me unfortunately.

Hometown: Ipswich, Queensland, Australia
High School: Ipswich Grammar School

At what age did you start playing your sport? What drew you to the game? I started playing at age 12, I was drawn to volleyball because of the oppotunities I had at a young age, and it's less running then basketball.

What is your fondest memory of your sport? Captaining my regional team to the state championships in my Grade 12 year when we were the underdogs all tournament. To top it off I was named tournament MVP.

Any pre or post-game rituals that you would be willing to share? How do you prepare? I always wear two pairs of socks to play, one pair of ankle socks and a pair of long socks, can't play without them! Before a game I always make sure to eat some snacks, granola bars, fruit and trail mix is my go-to. And my music of choice is Australian 80's/90's rock. Not exactly pump up music but it gets me in the zone.

What are your future goals? I want to finish my degree in Canada before I think too far ahead, but I'd love to continue with volleyball and play professionally in Europe somewhere. But that's a few years down the track for me.

From Head Coach, Sam Tu'ivai

Any special game moments, stats you'd like to share? Tom is middle attacker and blocker for the team. His presence on the court really shows. Tom is first in blocking for our team by putting up 15 Solo Blocks and second on our team in kills with 31.

What does this player bring to the dynamics of the team? Tom's athleticism, quiet and chill personality plays a huge role in our team, "on and off' the court. On the court, he plays a leader role in putting the ball away and showing what it takes to strive to win. Off the court, he is someone that the team looks up to as a leader because of his knowledge of the game and willingness to help other team members to be better and stick with their process. Looking forward to what he will achieve this season.