News Archives: 2020 FOG Awards - Anna van der Giessen - GPRC Wolves Female Athlete of the Year
Friday, April 17th, 2020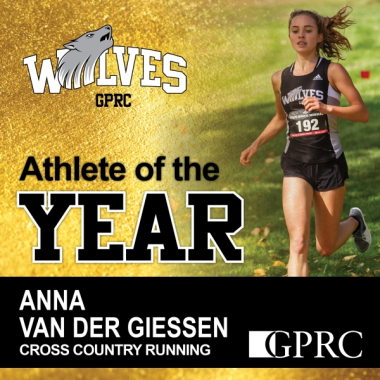 GPRC Wolves Athletics annually recognizes the outstanding accomplishments and achievements of their athletes. The honorary Festival of Gold Awards Banquet celebrates a standard of excellence both in the classroom and on the court, field or track.

As part of the provincial response to prevent the spread of COVID-19 in our community, this event scheduled for April 1, 2020 was unfortunately cancelled.

While we missed getting to bring everyone together in-person, we're still celebrating the achievements of our amazing athletes by announcing the award recipients online.
The GPRC Wolves Female Athlete of the Year recognizes an athlete who has positively contributed to the ACAC, is viewed as a leader on the team and has excelled and continuously improved in their sport.

The 2019-2020 Female Athlete of the Year was awarded to Cross Country and Indoor Track runner, Anna van der Giessen.

Bezanson, Alberta native, Van Der Giessen is in her third year running for the GPRC Wolves Cross Country and Indoor Track teams. Currently enrolled in the Bachelor of Science Nursing program at GPRC, she had both a cross country and indoor track season to remember.

Van Der Giessen was named one of the CCAA's All-Canadian athletes presented by the Running Room for 2019-20 cross country season after her 7th place finish in the 6 km snowy Nationals race on November 9 with a time of 26:14. Under tough, frigid conditions (-15 C, wind, and 15 cm of fresh snow), Van Der Giessen went out fast with the lead pack in the women's 6 km race. Her early aggressive running paid off, as she was able to establish a gap on all but a few of the best college runners in Canada and hold on for a top-10 finish.

Although, indoor track season was cut short, Van Der Giessen was part of 7th place finished overall for the Women's team at their last ACAC meet in hosted at SAIT. She was a top Wolves point earning finishing 5th in the 3000m with a time of 12:02 and was part of the 5th place women's 4x200m team (2:06.23).

"I met Anna at the beginning of 2019 in the position of assistant coach (unofficial) for Bill Corcoran. At that time, I had the opportunity of test her at the GPRC exercise physiology lab and was impressed with her test results: she had one of the highest oxygen uptake values I had ever tested in a female athlete until then. Clearly her results started to appear in her races: 4th at Cross Country Provincials and 7th at Cross Country Nationals in 2019. To me, these are just the beginning of a great career, as her performance times do not even scratch the surface of her full physiological potential," said Head Coach Fabio Minozzo.

"Besides being a great athlete Anna is dedicated student, and a very sweet and emphatic person, but do not confuse these qualities with weakness; Anna is a strong young woman who is also a natural inspiring leader among her teammates."

On behalf of the entire GPRC Wolves Athletics department, we would like to send our congratulations to Anna.