News Archives: 2020 FOG Awards - Liam O'Hallahan - GPRC Wolves Male Athlete of the Year
Friday, April 17th, 2020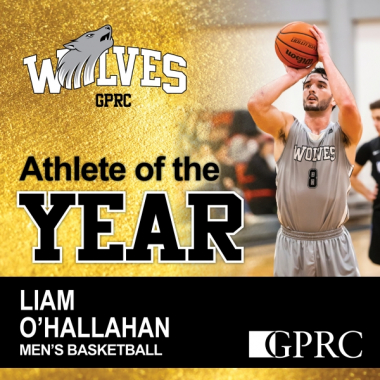 GPRC Wolves Athletics annually recognizes the outstanding accomplishments and achievements of their athletes. The honorary Festival of Gold Awards Banquet celebrates a standard of excellence both in the classroom and on the court, field or track.

As part of the provincial response to prevent the spread of COVID-19 in our community, this event scheduled for April 1, 2020 was unfortunately cancelled.

While we missed getting to bring everyone together in-person, we're still celebrating the achievements of our amazing athletes by announcing the award recipients online.
The GPRC Wolves Male Athlete of the Year recognizes an athlete who has positively contributed to the ACAC, is viewed as a leader on the team and has excelled and continuously improved in their sport.

The 2019-2020 Male Athlete of the Year was awarded to #8 Guard, Liam O'Hallahan.

"Liam is a deserving candidate for this honour. He is one of the most dominant players in the ACAC, as well he dominates in the classroom and weight room for our men's program," says Head Coach, Evan Lloyd. "Liam was voted by other ACAC coaches as a Top 5 player in the North Division, in which he won a 1st team All Conference award. He was also selected as a CCAA Academic All-Canadian. He embodies what it means to be a student athlete."

O'Hallahan, a 6'3", second year athlete in the Bachelor of Education program at GPRC has certainly made an impact in his two seasons with the Wolves with this being his second year in a row taking home this honorary title. O'Hallahan was named Male Athlete of the Year and Rookie Athlete of the Year last year at the Festival of Gold Awards Banquet.
Playing 20 of the 24 games this season, O'Hallahan is known for being an outstanding athlete that creates matchup problems for the opposing team.

O'Hallahan has seen continued success and is praised for his dedication and hard work ethic in the gym, on the court and in the classroom. He is viewed a natural leader for the wolfpack. Leading the Wolves in a number of categories this season including steals per game, defensive and offensive rebounds per game to name a couple. O'Hallahan is also sitting first for the Wolves in points and second for the ACAC with 467 points.

"Liam brings leadership, experience and competitive nature to the team. He is a dominate force offensively as well as an improving playmaker. His athleticism and strength is almost unmatched in the ACAC and is a force against other team's best defenders. He brings this into our practices as well which makes his teammates better and elevates the competitive environment during a practice. Liam is a very deserving candidate for this award," says Coach Lloyd.

On behalf of the entire GPRC Wolves Athletics department, we would like to send our congratulations to Liam.