News Archives: GPRC celebrates first student to be awarded the Colleges and Institutes Canada Paul and Gerri Charette Bursary Program
Monday, May 25th, 2020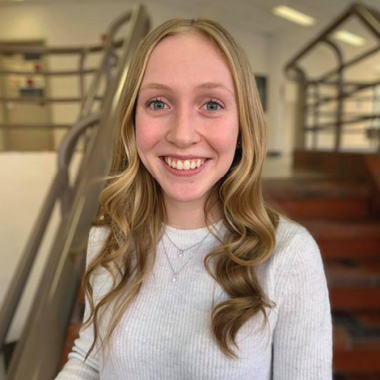 Mya Toerper, 2019 CiCan Paul and Gerri Charette Bursary Program recipient.
During the 2019-20 academic year, GPRC celebrated many student accomplishments including first year Psychology student, Mya Toerper as the 2019 Colleges and Institutes Canada (CICan) Paul and Gerri Charette Bursary Program recipient.
Toerper is the first GPRC student to be awarded this prestigious bursary of $2,500 per semester and we sat down to discuss how this bursary has impacted her post-secondary experience so far.
Tell us a little about yourself.
I'm a local resident from Wembley, Alberta, and attended school in Beaverlodge. For me, school is my primary focus. I put a lot of time and dedication into my school work. When I have downtime, I like to spend it with my family and my friends.
What made you choose to enroll at GPRC for your post-secondary education?
GPRC was a great choice for me because it's close to home; it's reasonably priced in terms of tuition and my sister enrolled at GPRC for her post-secondary education and really enjoyed her time at the College so it was a good indicator to me that I would as well. Those factors ultimately led me to enroll at GPRC.
What program are you currently enrolled in?
I'm going to be a second year student at GPRC in the Fall. I began by enrolling in the Kinesiology transfer program but I quickly realized that wasn't the path for me and I've switched into a Psychology major. Once I complete my degree, I'm planning to work towards achieving my masters in Psychology and then eventually working towards a PhD. I received mentorship from an instructor and my plan is to do three years at GPRC and one year through Athabasca to achieve my degree. For my masters, I'm not too sure yet, maybe the University of Alberta or online. Once I've completed my education, I want to remain local. I think it's important to give back and I look forward to one day being able to contribute to my community.
What inspired you to choose Psychology?
I want to help people. Psychology is always something I've been interested in and I had a Psychology class when I was still enrolled in the Kinesiology program and that inspired me to switch. It's a career where I'll be able to help people and I think I'll be able to relate with those who are struggling or unsure of how to deal with certain feelings and emotions and how they, and I, can both learn from that.
How did you learn about the CICan Paul and Gerri Charette Bursary Program?
I learned about the Paul and Gerri Charette Bursary program thanks to GPRC. I received information sent via email on student opportunities and I decided to look into them further and decided that I should apply. I didn't know about it beforehand so I'm grateful that this opportunity was presented by the College.
How has receiving this bursary impacted you? How has it helped you on your path towards achieving your career goals?
I was so excited when I learned I was the recipient! It has definitely taken a lot of financial pressure off me by not having to worry as much about the cost of books, tuition, and things like parking passes. It's been a tremendous relief and I feel very lucky, honored and grateful to have been chosen as the recipient. It has been a huge help in receiving and accomplishing my education.
What are your future career plans?
Receiving this bursary has provided a boost in my career goals. It's made me feel reassured that 'yes, I can do this, everything will fall into place' and has increased my post-secondary confidence. It's also relieved pressure financially to the point where I don't have to look for part-time work. The ability to focus all of my attention on school work and my future has been incredible. College is expensive and not having to worry has been a large weight lifted.
As the first GPRC recipient of this bursary. What would you say to encourage others to apply?
I would encourage everyone to apply. It's worth it. I understand most people have a lot on their plates but it's worth the time to write the paper required for the application because long-term, the few hours you'll spend on the application can pay off and lead to a very positive and impactful experience.
What has been your favourite part of attending GPRC?
I love learning. I love learning new things, meeting new people, and gaining new experiences. I like to broaden my horizons and perspectives. College is a whole new educational and life chapter that I want to soak up. I like that I can look back and see that I'm really gaining something and taking away from this whole experience and I love that.
Congratulations, Mya.

Click here to learn about GPRC Scholarships, Awards and Bursaries.