News Archives: Post-Secondary Students Get a Shot at FREE Tuition
Tuesday, June 1st, 2021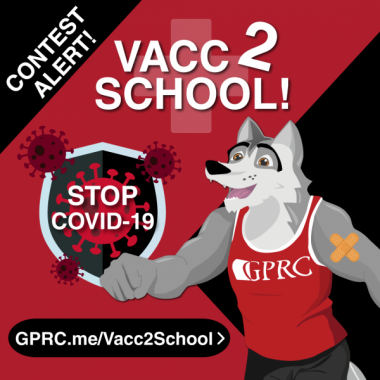 #Vacc2School Campaign.
#Vacc2School Campaign incentivizes COVID-19 protection as GPRC prepares to welcome students back for in-person learning
GRANDE PRAIRIE/FAIRVIEW - A safe campus environment and healthy student experience is top of mind for Grande Prairie Regional College (GPRC) as the countdown to the Fall 2021 semester begins. As Alberta's latest polytechnic institution prepares for the return of in-person learning in September, a creative campaign to encourage students to protect themselves and others from COVID-19 infection has been launched.
"We recognize the important role of vaccination in safeguarding our learning community," says Dr. Vanessa Sheane, Interim Vice-President, Academic and Research. "With vaccines now widely accessible across Alberta, our goal is to give students and staff even more reasons to book their free shot."
GPRC's #Vacc2School campaign will run from June 1 to September 1, 2021. Over the next three months, registered students, faculty and staff who have received a COVID-19 vaccine can enter into a draw for more than 160 prizes.
In addition to GPRC Wolves merchandise, bookstore vouchers and Chartwells gift cards, lucky students who get their protection will also have the opportunity to benefit from a timely tuition boost with three grand prizes of full tuition for Fall 2021 up for grabs.
"Throughout the competition we will be awarding a number of great prizes," explains Dr. Sheane. "Our plan is to do an early bird tuition draw at the beginning of July, a second tuition award in August, and our final grand prize announcement in early September."
With an eye on a return to campus in the fall, GPRC's faculty and staff will benefit from various parking perks. Vaccinated staff will be eligible for a total of four 120-day passes being awarded over the course of the summer and two annual passes reserved for the grand prize draw in the fall.
A full list of the prizes along with the online contest rules and entry form can be found at GPRC.me/Vacc2School. Students and staff can choose to book their appointment online through the Alberta Health Services website or contact their local pharmacy.
"Over the last 15 months our learning community has done an outstanding job navigating the ups and downs of this pandemic," said Dr. Sheane. "We are grateful for everyone's efforts and continue to be impressed by the patience, adaptability and resilience of our students and staff."
In March 2020, following the public health directive, GPRC successfully pivoted to online and mixed delivery learning models. Today the outlook is very different with vaccine uptake rising and hospitalizations on the decline, post-secondaries across the province are continuing to plan for a much-anticipated return to in-person instruction in the Fall.
The #Vacc2School campaign is open to all GPRC students, faculty and staff. All prizes will be awarded by September 3, 2021. Selected winners will be contacted via email and asked to show proof of vaccination.
Visit GPRC.me/Vacc2School for further details about the contest, including rules, terms and conditions.