News Archives: Grande Prairie Regional College Appoints New President and CEO
Friday, August 6th, 2021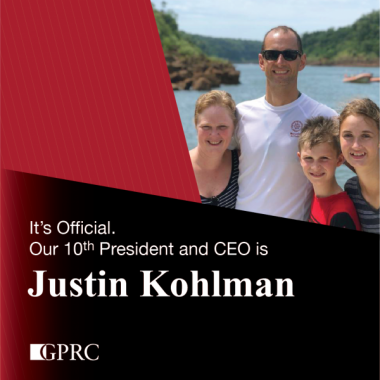 Justin Kohlman, pictured with family, has been appointed as GPRC's 10th President and CEO.
Justin Kohlman will be integral in leading ongoing polytechnic transition.
Grande Prairie Regional College is pleased to announce the appointment of its 10th President and CEO. GPRC's Board of Governors appointed Justin Kohlman, a dedicated community builder with a proven track record of transformational post-secondary leadership, into the institution's top job.
"This appointment marks the culmination of an extensive search for our next President. We were looking for an exceptional post-secondary leader who would elevate our institution and the communities we serve. Justin is this leader," says GPRC Board of Governors Chairperson, Bridget Hennigar. "We are delighted to welcome Justin to GPRC and look forward to the many exciting milestones ahead as our polytechnic journey continues to take shape."
Kohlman, who has held progressive leadership roles over the last 20-years in both Australian and Canadian post-secondary institutions, will officially begin his duties in November.
"Together, we have the opportunity to build off of GPRC's many strengths to create an exciting vision as we evolve into a polytechnic institute to serve our students and our region," said Kohlman. "I'm eager to be a part of this effort and look forward to harnessing the power of our new designation."
Since the Ministry of Advanced Education's announcement of polytechnic status earlier this spring, GPRC has been actively working to enhance community connections and to gather perception data which includes valuable learnings from the past along with aspirations for the future.
"This is a wonderful time for our institution and the communities we serve," says outgoing acting President and CEO, Dr. Glenn Feltham. "Our new President will provide a strong voice for our learning community, elevate our institution and strengthen the skills and competitiveness of our province. He is the right person to lead our amazing institution."
During his five-year appointment, Kohlman will be responsible for mobilizing GPRC's polytechnic potential, cultivating local opportunity and delivering a quality post-secondary experience for students, staff and faculty. Learn more about GPRC's new President here.