Alberta's Newest Polytech Gets Health Boost
Wednesday, May 25th, 2022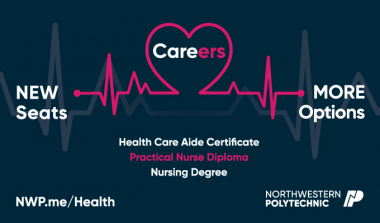 Northwestern Polytechnic (NWP) is today celebrating Government of Alberta approval for programming enrolment expansions that will support regional health and well-being for years to come.
Recognizing rising demand for health care professionals in Northwestern Alberta, in April the polytechnic put forward a proposal to expand capacity for NWP's collaborative Bachelor of Science in Nursing degree, Practical Nurse diploma and Health Care Aide certificate.
"We understand the importance of aligning our programming with regional needs both now and into the future," says NWP President and CEO, Justin Kohlman. "By providing relevant post-secondary training opportunities locally, we can improve our collective ability to retain in-demand professionals and health entrepreneurs in our communities."
The change means NWP will be able to accommodate even more students with a total of 72 new seats for first year applicants. The breakdown is as follows:
Collaborative BScN: 40 additional students
Health Care Aide certificate: 16 additional students in Fairview
Practical Nurse diploma: 16 additional students
The expanded capacity is great news for rural, northern and Indigenous students looking for a rewarding career in community, long-term and acute care settings. At Northwestern Polytechnic there are a handful of healthcare pathways to choose from.
"Our collaborative Bachelor of Nursing degree has been steadily growing since its inception in 1997," says Dr. Vanessa Sheane, Provost and VP Academic. "Delivered in partnership with the University of Alberta, this program enables students to complete all four years of study at the Grande Prairie campus."
Over the last two-decades the institution has produced nearly 1000 graduates who had the benefit of classroom learning and clinical placements in surrounding health care facilities. The added enrolment capacity will support 120 new students each year to begin their Nursing degree with the benefits of home.
In 2021, NWP successfully launched a Health Care Aide certificate in Grande Prairie and in March 2022, Fairview campus was announced as a second location for the eight-month program. The latest investment will establish the Fairview program capacity at 16 students.
"Health Care Aides have become increasingly important across the healthcare continuum and are in high demand in our region," says Dr. Denise Nowicki, Interim Dean, School of Health and Education. "Our graduates will be qualified to provide basic health services, personal assistance and support for patients with health care needs in a variety of settings."
Northwestern Polytechnic also welcomed its first cohort of Practical Nurse students earlier this year. The two-year diploma program will grow from 32 to 48 seats for first year students and applications for the January 2023 intake are currently being accepted.
To learn more about the exciting healthcare training options at Northwestern Polytechnic please visit NWP.me/Health.
Read the Government of Alberta's news release here.