News Archives: Jessica Pigeau went from Public-Speaking Avoider to International Orator
Thursday, August 4th, 2016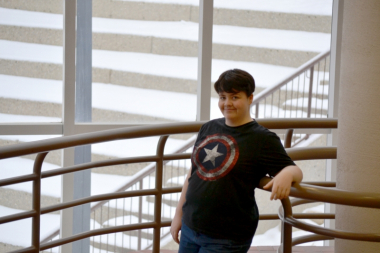 As an Academic Upgrading student at GPRC, Jessica Pigeau despised public speaking. "It ended in tears," she says, remembering her first in-class presentation. She corrects herself, "actually it began in tears," and laughs.
Despite her weepy start in 2009, Pigeau is now gaining acclaim as an orator. A masters student at the University of Alberta, she presented a paper at the 17th Annual International Conference on Autism in London, England last September.
Her presentation gained widespread media coverage. Despite the conference's theme, it's very rare for someone with autism – as Pigeau does - to speak there.
"It is somewhat difficult to find a spokesperson for a condition which involves communication delays and often speech problems," she says, with a wry smile, "particularly when it also involves social awkwardness and social anxiety".
Now an award-winning debater focusing on translation studies at the U of A, Pigeau says her journey began at GPRC. "I think being encouraged to speak publicly and being asked to not run away from it was incredibly important to my progress."
GPRC instructor Lorna Perry taught Pigeau her first French class - FR 0120. The class awakened the student's passion for languages (she has since studied seven more.) It was also the class where Pigeau had to face speaking in public.
Perry remembers convincing the young woman to give it a try. "That's my goal when teaching - I want students to rise to the occasion and succeed, even when they think they can't. And Jessica managed to do just that."
Pigeau says it was on a whim that she took the French course. "And I fell in love with it. Part of it was the language itself and part of it was the professors I met there." She took every available French course GPRC had to offer, studying with both Perry and Raoudha Kallel.
"Something that they both share is not only an interest in their subject but a love of their students," she says. "Madame Perry and Madame Kallel both care that you understand. They care that it makes sense to you. That is very meaningful as a student."
GPRC was an important bridge in her life, says Pigeau, who was homeschooled before college. She didn't graduate high school, "largely due to undiagnosed learning problems," she says. The fact that she could attend the college – though she struggled with education previously - changed her life, says the Grande Prairie native. "You can find an opportunity here. You can be given a chance."
"Had I not spent two years at the regional college, I don't think I would have been prepared for the U of A. I wouldn't have been ready. The first step, the foundation that I got here, let me succeed there."
Her GPRC instructors have followed her progress. "I think it's phenomenal," says Perry. "It's challenging your limitations and discovering your inner strength to pursue a passion." "We are very proud of her," says Kallel.
Pigeau finished her Masters degree this year and is thinking about a PhD thesis. She is a regular public speaker now with two main two topics: her experiences and her personal research focused on bringing out a less medicalized perspective on autism. So little academic work has been done discussing autistic culture, she says, and it's not because it doesn't exist. "There are a lot of notable autistic composers, actors, artists - people who have made valuable contributions to broader society."
Pigeau herself is living proof. Beyond her other accomplishments, she is mounting a one-woman comedy show at the Edmonton Fringe Festival next summer, titled '(Ab) Normal.' She uses her humour as advocacy.
"It's normal to know that autism is," she says. "It's not normal to know what autism is." Pigeau would like to help change that. Thanks in part to some early help from her GPRC French instructors, she is well on her way to accomplishing her goal. The tears are long gone.