NWPeople
Sarah Bateman: Valuable Connections
Wednesday, March 22, 2023 | By Karlee Kapler
Sarah Bateman will be the first to tell you she owes her current success to the Business Administration's Work Integrated Learning program at Northwestern Polytechnic. Before she enrolled in the program, Bateman had yet to learn what career opportunities were available for someone with a business background. Read more about Sarah
Matthew Stewart: Artistic Possibilities
Wednesday, March 15, 2023 | By Karlee Kapler
At Northwestern Polytechnic, Matthew Stewart found himself surrounded by like-minded peers who shared his passion for the arts.

He was encouraged to explore new mediums and techniques, and to discover what truly inspired him. Read more about Matthew
Arianna Payne: Wolves Athlete of the Month
Congratulations, Arianna, our Wolves Athlete of the Month, presented by Marble Stab Creamery.
Arianna's performance in the tournaments held at Olds and Portage was excellent, and she scored in several games. This season is Arianna's last with the Wolves as she is transferring to complete her Bachelor of Kinesiology. We wish her all the best.
Kujtim Ujkani: Wolves Athlete of the Month
Congratulations, Kujtim, our Wolves Athlete of the Month, presented by Marble Stab Creamery.
Kuj was instrumental in taking the Wolves to the final 8 in the 2023 ACAC Championship. With an impressive performance against Lakeland, he put up 28 points to close out the season with a memorable game.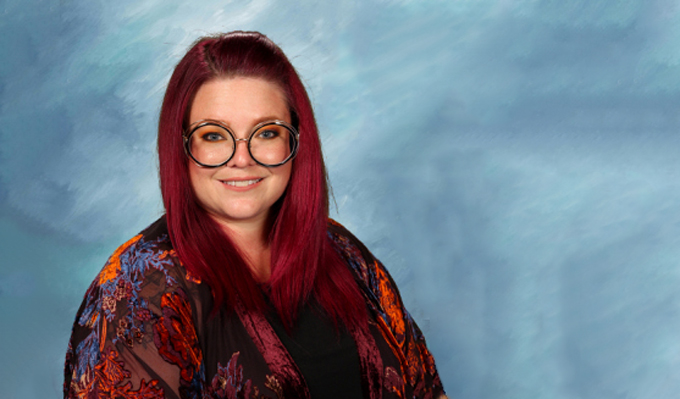 Jeannine Younger: Unexpected Pathways
Wednesday, March 8, 2023 | By Karlee Kapler
At three-years-old, Jeannine fell in love with dance and spent many years performing on the stage of the Douglas J. Cardinal Performing Arts Centre. She began teaching dance at just 14-years-old. After graduating high school, Jeannine's academic journey led her to New York City where she studied theatre. Read more about Jeannine
Darcy Hudak: Open Road Passion
Wednesday, February 22, 2023 | By Karlee Kapler
Darcy Hudak wasn't always happy and passionate about his career. Before becoming a Motorcycle Mechanic and Instructor at Northwestern Polytechnic (NWP), he was working at a job which was negatively impacting his mental health. Riding his motorcycle during that time was one of the few things that kept him going every day. Read more about Darcy
Jory Simard: Leveraging Opportunity
Wednesday, January 25th, 2023 | By Karlee Kapler
Jory Simard credits Northwestern Polytechnic (NWP) as the roadway that carved the way to his future successes and entrepreneurial endeavours. As someone who has called Grande Prairie home his entire life, Simard explained that there is "nothing but opportunity to be leveraged" in the Peace Region. Read more about Jory
Misha Albert: Passion Driving Entrepreneurism
Wednesday, January 18th, 2023 | By Karlee Kapler
For artists, being an entrepreneur is a must. It's not enough to just have talent - you need to make your passion work for you. Entrepreneurial artists take the initiative and find ways to pursue their passions creatively and innovatively. Read more about Misha
Jesse Griffin: Professional Relationships
Wednesday, February 1st, 2023 | By Karlee Kapler
After graduating from Northwestern Polytechnic's (NWP) collaborative Bachelor of Science degree program in Nursing, Jesse remains connected with faculty and staff at NWP. This connection helped Jesse secure his current role as a Registered Nurse for Alberta Health Services Public Health Department. Read more about Jesse
Lydia Sadiq: Resiliency
Wednesday, February 15th, 2023 | By Karlee Kapler
Although she admits that she didn't have a traditional education pathway, Lydia Sadiq credits her involvement on campus at Northwestern Polytechnic (NWP) as the catalyst to her now career. Read more about Lydia
Shawna Miller: Our New Board Chair
Wednesday, March 1, 2023 | By Karlee Kapler
Shawna first arrived in Grande Prairie at a young age and attended NWP after high school where she studied Business Administration. After furthering her education with a Bachelor of Arts majoring in Economics at the University of Alberta, Shawna returned home to Grande Prairie alongside her husband. Read more about Shawna
Events and Important Dates
Our Values, Purpose & Vision
At Northwestern Polytechnic, our core values, purpose and vision are underpinned by the understanding that we are redefining the entrepreneurial spirit. We are instilling a mindset that extends beyond our classrooms and campuses, and even beyond the status quo.
We want everyone to have the confidence to turn risk into opportunity.
News
Get Social With Us
Land Acknowledgment
Northwestern Polytechnic acknowledges that our campuses are located on Treaty 8 territory, the ancestral and present-day home to many diverse First Nations, Métis, and Inuit people. We are grateful to work, live and learn on the traditional territory of Duncan's First Nation, Horse Lake First Nation and Sturgeon Lake Cree Nation, who are the original caretakers of this land.

We acknowledge the history of this land and we are thankful for the opportunity to walk together in friendship, where we will encourage and promote positive change for present and future generations.