NWPeople
Kristy Honing:
Paws-itive Education
Wednesday, September 27, 2023 | By Karlee Kapler
Despite being allergic to animals and never having a pet growing up, Kristy Honing admits she has always been drawn to all creatures, great and small. "As a little girl, I was the unofficial caretaker of the neighbourhood cats. These cats often found their way into my backyard and were corralled into my playhouse, where I lovingly cared for them until I had to let them return home." Read more about Kristy.
Evan Bedard: Athlete of the Week
Congratulations to Evan Bedard, NWP Wolves Athlete of the Week.
In his 5th season with the Wolves, #13 Bedard kicked off the season with a strong performance against the Portage Voyageurs, finding the back of the net in the second matchup of the home opener weekend. For his shooting efforts on the pitch and sole unassisted goal for the Wolves, the Bachelor of Kinesiology student received Player of the Game honours at Sunday's match.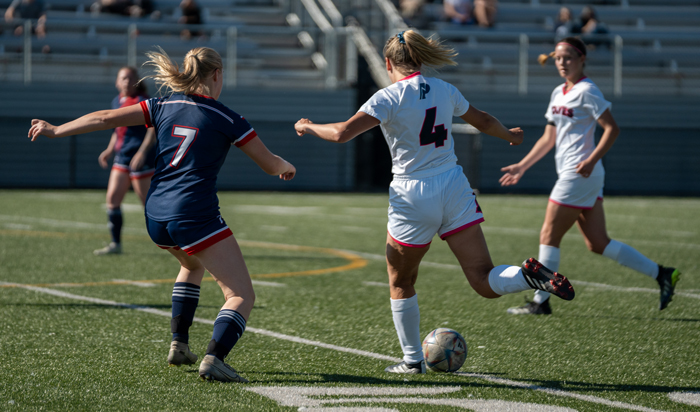 Ashley Hodel: Athlete of the Week
Congratulations to Ashley Hodel, NWP Wolves Athlete of the Week.
With her ACAC debut at the Wolves home opener weekend, Hodel, who hails from Medicine Hat, AB, worked extremely hard all weekend on both sides of the ball. Making strong tackles and disrupting the Voyageurs' attack, the 1st year Nursing student dug her heels in, holding off a solid opposition to tie the weekend matchup.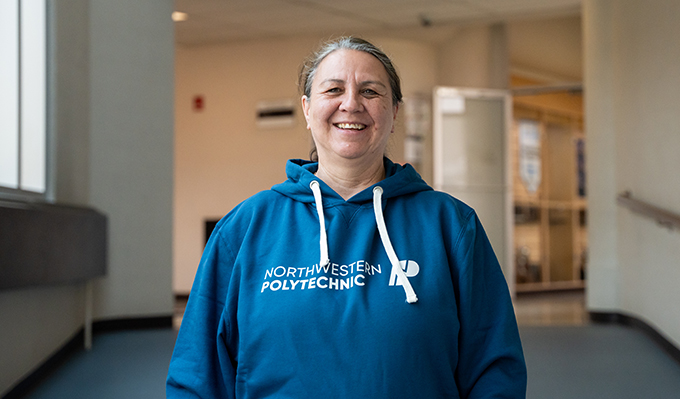 Darlene Horseman: Decolonizing Her Education
Wednesday, September 20, 2023 | By Karlee Kapler
"I'll tell you this: I never liked education. As a child, school was such a negative experience for me. It was never a priority," admits Darlene Horseman, the Cree and Indigenous Studies Instructor at Northwestern Polytechnic (NWP). Read more about Darlene.
Charles Sanderson: Sharing His Knowledge
Wednesday, September 13, 2023 | By Karlee Kapler
Charles Sanderson's journey at Northwestern Polytechnic (NWP) started in 1998 when he attended the Fairview campus and completed the Electrician and Power Engineering programs. But Charles' ambition didn't stop there. In 2002, he earned his Red Seal Certification in Electrical and launched his career. Read more about Charles.
Carolyn Vasileiou: Confidence and Curiosity
Wednesday, August 30, 2023 | By Karlee Kapler
It was NWP's Fairview campus that brought Carolyn Vasileiou's parents together. Long before she started her own journey at NWP, Carolyn's parents met while young students at what was then called Fairview College. Her father was in the agricultural program and her mother was studying home economics. Read more about Carolyn.
Events and Important Dates
Our Values, Purpose & Vision
At Northwestern Polytechnic, our core values, purpose and vision are underpinned by the understanding that we are redefining the entrepreneurial spirit. We are instilling a mindset that extends beyond our classrooms and campuses, and even beyond the status quo.
We want everyone to have the confidence to turn risk into opportunity.
News
Get Social With Us
Land Acknowledgment
Northwestern Polytechnic acknowledges that our campuses are located on Treaty 8 territory, the ancestral and present-day home to many diverse First Nations, Métis, and Inuit people. We are grateful to work, live and learn on the traditional territory of Duncan's First Nation, Horse Lake First Nation and Sturgeon Lake Cree Nation, who are the original caretakers of this land.

We acknowledge the history of this land and we are thankful for the opportunity to walk together in friendship, where we will encourage and promote positive change for present and future generations.