News Archives: FluidPRO donation keeps GPRC's Professional Driver Training moving
Wednesday, February 28th, 2018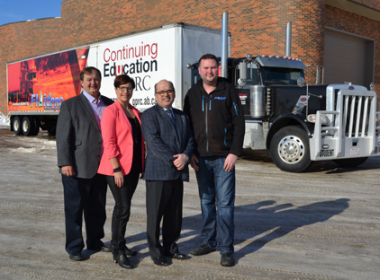 GRANDE PRAIRIE – FluidPRO Oilfield Service's $109,000 donation of a tractor-trailer unit will keep Grande Prairie Regional College (GPRC) meeting the demand for its Professional Driver programs.

GPRC's Continuing Education department provides Class 1 and 3 Professional Driver and other training to meet the high demand in the region for drivers. The College was in need of an additional tractor-trailer to better meet the demand from local industry.

"The industry training and professional development programs offered by GPRC and its Continuing Education department are vital to the continued growth and success of our region," said Chad McFarland, Owner, FluidPRO Oilfield Services. "This isn't just a donation to the College - it is an investment in the future growth of our industry and our community."

FluidPRO donated a 2014 Peterbilt tractor and a 48-foot 1995 Monon trailer to GPRC this summer and the unit was immediately put into operational service. GPRC provides driver training programming at its campus in Grande Prairie as well as its Learning Centres in Hinton, Edson, and Grande Cache.

"This generous donation from FluidPRO ensures GPRC will continue to provide industry with highly-skilled workers and create new opportunities for learners in our region," said Don Gnatiuk, GPRC President and CEO. "Donations such as this are vital to GPRC and its ability to serve our communities. We are grateful to the FluidPRO team for their support of our students."

The College's Continuing Education programs provides people with new skills to expand or change careers. Professional Driver is currently one of the most in-demand careers in Alberta. GPRC is meeting the needs of the trucking industry and giving residents the skills they need to enter the field. In the last year, GPRC has trained more than 120 Class 1 and 3 drivers to meet industry needs and start people on the path to a new career.

"Our donors make a difference in the lives of students. Whether it's providing a new piece of training equipment, such as this tractor-trailer, a student award or bursary, an event sponsorship, or an investment in the growth of our programs, these donations directly improve people's lives through education," said Gnatiuk.