NWP Unveils New Look and Programs
Wednesday, March 9th, 2022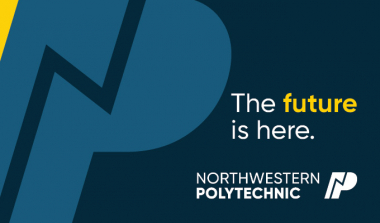 Northwestern Polytechnic celebrates next step in polytechnic transition.
Partnership announcements, $1 million donation and fresh learning pathways boost launch celebration.
Staff, faculty, students, government leaders and community members gathered at Northwestern Polytechnic campuses in Grande Prairie and Fairview today to celebrate the final transition of Grande Prairie Regional College into Northwestern Polytechnic (NWP).
"I am so excited to see Grande Prairie receive polytechnic status. The Alberta 2030: Building Skills for Jobs strategy is moving Alberta forward by ensuring students have the necessary skills and knowledge to succeed in tomorrow's economy," said Demetrios Nicolaides, Minister of Advanced Education. "Northwestern Polytechnic helps us achieve this goal and has continued to adapt and improve their education to prepare students for the future."
The unveiling ceremony marks the official launch of the institution's bold look and exciting direction as Alberta's newest polytechnic.
"Today we celebrate the rich foundation on which we are building, the efforts of many to get us to this point, and the tremendous potential ahead," said Justin Kohlman, President and CEO of Northwestern Polytechnic. "We are so grateful to have this opportunity and are looking forward to maximizing the entrepreneurial skills and talents in this region to bring out the best in our students, industries and communities."
The institution is set on becoming the most entrepreneurial polytechnic in Canada.
"NWP is extremely fortunate to be part of a region with unmatched resources, skills and drive," said Vice-President, External Relations, Cherene Griffiths. "Our learning community is eager to harness this potential and to deliver impactful outcomes that will support local competitiveness, growth and economic diversification."
As a polytechnic, NWP will be looking to enhance experiential learning and applied-research opportunities while growing programming that supports local needs and success.
Bridget Hennigar, Chair of the NWP Board of Governors announced that in the fall of 2022, Northwestern Polytechnic will offer the first year of a university transfer Bachelor of Engineering program to students.
"This program allows students to start their engineering degree with all the support and comforts of their community," said Hennigar. "It's good news because we know that when the education journey starts at home, it helps to foster good habits and often delivers better outcomes for those who eventually transfer to a university."
The degree is being bolstered by Grande Prairie's ARC Resources Ltd. who generously provided a $1 million donation towards the development of this program.
"This program will play an integral role in improving the accessibility of high-quality and relevant educational opportunities for students in the Grande Prairie and surrounding area," said Terry Anderson, President and Chief Executive Officer, ARC Resources Ltd. "We are proud to partner with Northwestern Polytechnic and support the development of top talent for the future workforce in this thriving region."
Going forward, NWP will also be exploring additional opportunities for business and industry collaboration. With apprenticeships, certificate and diploma programming and high-quality degree options, the goal is to better prepare today's students for the jobs of tomorrow. A new partnership with Spartan Controls will kick off these efforts.
"Commencing next year, instrumentation and control technician apprenticeship students will be fully immersed in their new career as they receive the bulk of their training right in Spartan's leading-edge facility with access to the latest industry tools and technology," said Peace Region's General Manager, Paul Naphin.
Aspiring health care professionals were also included in the vision for the future with an announcement that NWP is expanding programming options in Fairview. Beginning in September 2022, students will be able to complete an eight-month Health Care Aide (HCA) certificate.
"We are committed to broadening healthcare career opportunities to the region," said Vice-President, Academic and Research, Dr. Vanessa Sheane. "The HCA certificate is fantastic because it gives students a chance to quickly acquire necessary training and skills that will directly translate into meaningful employment."
To learn more about NWP's new look and bright future please visit nwpolytech.ca/unveiling.