News Archives: Mariah Kyllo - Featured Athlete of the Week
Tuesday, September 10th, 2019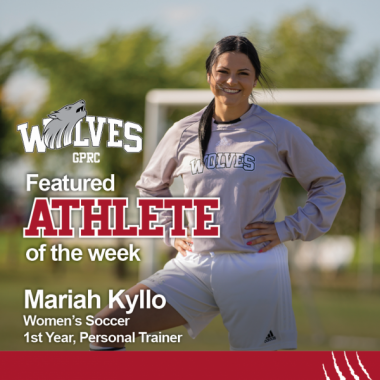 Name: Mariah Kyllo
Position: Midfielder

Jersey Number. Is there a story behind it? No story. New year, new jersey.

Hometown: Grande Prairie, Alberta
High School: Charles Spencer High School

At what age did you start playing your sport? I was five-years-old when I started playing soccer. I remember it being a lot of fun and being on a team that felt like a family was what drew me in and kept me playing.

What is your fondest memory of your sport? I have no many fond memories. One of them would definitely have to be placing 2nd at the Arctic Winter Games, or this past weekend, scoring two goals in my first ACAC game with the Wolves. Being named Player of the Game is always an awesome moment as well.

Any pre or post-game rituals that you would be willing to share? How do you prepare? To prepare for games I always eat two hours before but then eat an apple right before the game. I'm always listening to music straight up until warm-up. I like to get in the zone and think about the team we're playing, all the situations that can happen during the game, how I'd react, really mentally prepare for the game ahead.

What are your future goals? To become a Physical Education Teacher, and definitely continue to play soccer. My goal would be to continue to help others grow their soccer skills.

From Head Coach Chris Morgan:

Any special game moments, stats you'd like to share? Mariah scored two goals from midfield on Saturday in her first-ever ACAC game for the Wolves as they secured a 2-0 win over the Keyano Huskies. Mariah deservedly won player of the game with an action-packed performance.

What does this player bring to the dynamics of the team? Mariah has a wonderful personality – engaging, always smiling and interacts well with everyone. In practice and in games Mariah is a dynamic and fierce competitor who can play in multiple positions. She is a very talented player who is two-footed, shows great awareness and has a terrific shot. We look forward to more action-packed performances from Mariah this season!