News Archives: Meet Shawnee Stanley, GPRC Student Ambassador
Tuesday, February 18th, 2020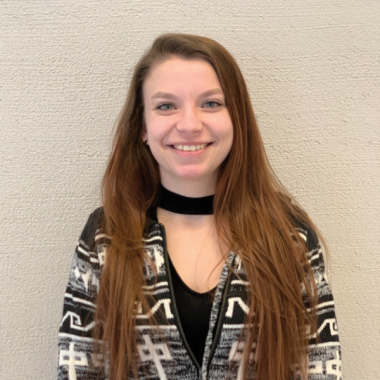 Shawnee Stanley, GPRC Student Ambassador.
Whether it's volunteering at events, helping out with campus tours or coming up with new ideas to make a better GPRC experience, Student Ambassadors play an important role in our recruitment department and offer an opportunity to learn and lead from within.

Throughout the semester, the Student Ambassadors will be interviewing one another to bring light to this incredible GPRC program as well as give readers a glimpse into their worlds as students. Meet Shawnee Stanley, a first year student in the College's Open Studies program. Shawnee's interview is written by Lyndsie Mcleod, a second year Bachelor of Arts student.
Tell me a little about yourself. Where are you from?
Shawnee was born in Penticton, British Columbia; however, she moved to Grande Prairie at a young age and has lived here for most of her life.
What is one interesting fact about you?
Shawnee is ambidextrous. When she plays sports, she can play some with her left hand and others with her right hand. Although Shawnee says her right hand is her dominant hand. She is able to write with both hands; but admittedly much better with her right hand.
When you're not in school or studying, what are you up to?
Hanging out with her friends and family, working, at the gym, relaxing, coloring, painting, watching Netflix, or engaging in a DIY creative project.
What year and program are you in? Why did you choose that program?
Shawnee is in her first year of Open Studies while she upgrades at GPRC. Along with her upgrading courses, she is taking some of the required courses for the Business Administration Certificate program. She will enrol full-time in the 2020-2021 academic year.
Her decision to begin her post-secondary studies with the Business Administration program stems from the ability to receive a certificate that holds great value for finding a job and can be used as a stepping stone to achieve larger goals.
What made you choose GPRC?
She chose GPRC primarily because of location. Shawnee was not interested in uprooting her life just to go to a university in a different city where she does not know anyone. Grande Prairie is where all her family and friends are.
What do you hope to do as a future career? Why?
Shawnee hopes to earn an accounting degree, work as a professional charter accountant, and to one day own her own business. She loves the idea of being her own boss and wants to ensure that she will maintain financial stability throughout her lifetime.
Why did you join the GPRC Student Ambassador program?
She thought it would be a good opportunity for her professional and personal development. The opportunity to learn and grow as an individual and through the creation of potential friendships were of top interest.
The interview doesn't stop here, read Shawnee's interview of Lyndsie here.

Learn more about the Student Ambassador program and how you can get involved here.