News Archives: 2020 FOG Awards - Manny Iloka - GPRC Wolves Male Rookie of the Year
Thursday, April 16th, 2020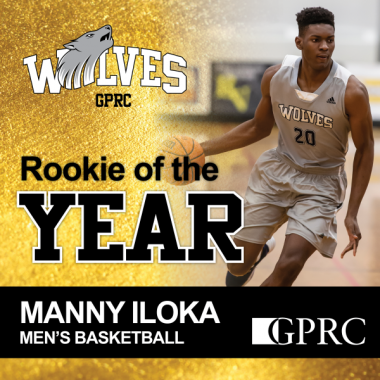 GPRC Wolves Athletics annually recognizes the outstanding accomplishments and achievements of their athletes. The honorary Festival of Gold Awards Banquet celebrates a standard of excellence both in the classroom and on the court, field or track.

As part of the provincial response to prevent the spread of COVID-19 in our community, this event scheduled for April 1, 2020 was unfortunately cancelled.

While we missed getting to bring everyone together in-person, we're still celebrating the achievements of our amazing athletes by announcing the award recipients online.

The GPRC Wolves Male Rookie of the Year recognizes an athlete who has positively contributed to the ACAC in their first season of play, is viewed as an important contributor on the team and has excelled and continuously improved in their sport.

The 2019-2020 Male Rookie of the Year was awarded to #20 Forward, Manny Iloka.

Iloka entered his first season of ACAC play with the Wolves and was a key component in all 24 games this season. Iloka, standing at an impressive 6'8", scored double digits in 15 of the 24 games. He averaged 12.5 points per game (PPG) and 8.9 rebounds per game (RPG) which secured him the 7th spot for total rebounds in the ACAC. He led the ACAC in blocks totaling 41 for this season. Iloka is a versatile player, and his athleticism allows him to play above the rim.

"Manny was a force playing above the rim at both ends leading the league in blocks and is already 11th all time in ACAC total blocks. He excels in the classroom and is setting the bar for our men's basketball academic standards. He is a goofball and always knows how to make coaches or teammates laugh. Manny is a deserving rookie of the year candidate not only because of his on-court success but also from his academic success in his first year at GPRC," says Head Coach, Evan Lloyd.

Manny finished second in scoring for the Wolves with 299 points, behind teammate and second year guard, Liam O'Hallahan who finished the season with a total of 467 points. His impressive first season earned him the ACAC North Rookie of the Year title voted on by all ACAC North coaches.

"Manny has helped elevate teammates to become better defenders and be more patient offensively which translated to on-court success this season. His personality and aloof persona can always get a smile out of teammates and coaches and is truly a pleasure to coach and be around," adds Coach Lloyd.

Iloka, originally from Nigeria, immigrated to Canada in 2015. He moved to Grande Prairie from Vancouver, British Columbia and is currently finishing up his first year of the Business Administration program, with aspirations of a career that would allow him to travel the world.

On behalf of the entire GPRC Wolves Athletics department, we would like to send our congratulations to Manny.