News Archives: 2020 FOG Awards - Mariah Kyllo - GPRC Wolves Female Rookie of the Year
Thursday, April 16th, 2020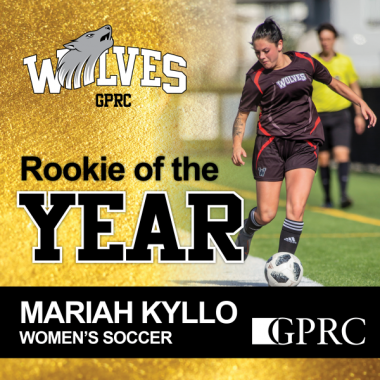 GPRC Wolves Athletics annually recognizes the outstanding accomplishments and achievements of their athletes. The honorary Festival of Gold Awards Banquet celebrates a standard of excellence both in the classroom and on the court, field or track.

As part of the provincial response to prevent the spread of COVID-19 in our community, this event scheduled for April 1, 2020 was unfortunately cancelled.

While we missed getting to bring everyone together in-person, we're still celebrating the achievements of our amazing athletes by announcing the award recipients online.

The GPRC Wolves Female Rookie of the Year recognizes an athlete who has positively contributed to the ACAC in their first season of play, is viewed as an important contributor on the team and has excelled and continuously improved in their sport.

The 2019-2020 Female Rookie of the Year was awarded to #10 Midfielder, Mariah Kyllo.

Mariah entered her first season of ACAC having played in all 12 of the Wolves games this season including starting in 11. She started her season strong, scoring the Wolves 2 goals from the midfield during their home opener against Keyano on September 7. Mariah has brought a total of 10 points to the Wolves with 4 goals coming out of her 18 shots on net this season.

"Mariah has been a revelation for the GPRC Women's Soccer program this year and was a vital component in the team's quest to reach provincials where the team narrowly missed out on the last day of the season," says Head Coach, Chris Morgan. "Mariah started the campaign with two goals in her debut game resulting in a 2 – 0 win verus Keyano."

Mariah is a natural born leader and is described as a dynamic player who has been instrumental in her midfield role this past season. She brings an intensity and work ethic to every practice and game that few can match and is a team player through and through.

"Mariah was an ever present, playing through injury and painkillers for the good of the team. Her abrasive style, phenomenal work rate, passing accuracy and vision was a joy to watch all season. Mariah is an effective leader leading with her actions both on and off the field in an effervescent manner. When she speaks in the locker room, everyone listens. Mariah has a wonderful personality, always lightens the mood and loves a laugh, she is a great person to be associated with," adds Coach Morgan. "Despite living out of town Mariah was first to practices even the 6:30am practices during preseason. She was always early to team meetings and always gave a 100 per cent providing an excellent example to her teammates."

Mariah hails from Grande Prairie and is currently enrolled in GPRC's Personal Trainer diploma. Her future goals include becoming a physical education teacher and continuing to play soccer for as long as she can.

"Mariah was deservedly awarded an All Conference Athlete award and ACAC Rookie of the Year for the North Division in 2019. I believe being awarded by the College that she represents would cap a wonderful season for Mariah," says Coach Morgan.

On behalf of the entire GPRC Wolves Athletics department, we would like to send our congratulations to Mariah.