News Archives: GPRC signs Memorandum Of Understanding with Health City
Wednesday, November 25th, 2020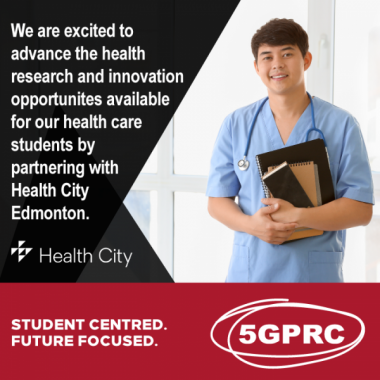 GRANDE PRAIRIE - Grande Prairie Regional College (GPRC) has signed a memorandum of understanding (MOU) with Health City to foster community-driven health research, innovation and education within the College's stewardship region.
Health City was incorporated in 2018 to help pave the way for the transformation of Alberta's health economy, driving improved health outcomes and economic development for the region that can be scaled globally.
The partnership will build on GPRC's new administrative strategy, 5GPRC, and Health City's four priority areas, including talent works, target to market, financing for impact, and powering smart decisions as frameworks to guide the MOU.
"Grande Prairie Regional College is uniquely positioned to provide service to rural communities throughout northern Alberta. Health City's goal is to generate opportunities for health innovators to drive the transformation of our health economy," said Reg Joseph, Health City CEO. "We see this partnership as an opportunity to increase access and support for innovators throughout the region to drive improved health outcomes and economic development for the province."
By directly aligning with Health City, GPRC will connect students to opportunities in the health care sector that will develop, grow, and commercialize their ideas, strategies and future products. Health City will plug innovators into funding opportunities, potential project partners, work-integrated learning, and mentorship opportunities for future growth and success.
"This partnership with Health City allows GPRC to leverage collaborator assets for the enhancement of the student experience and innovation and partnership opportunities for the College," said Dr. Robert Murray, GPRC President and CEO. "As we evolve, it is crucial we provide innovative resources, and inspire our students to foster innovative thinking to create a diverse and bright future."
Health City's focus is to transform innovations from Alberta's health sector into solutions that have commercial application and global relevance. Through the College's Evaskevich Centre for Health Research and Innovation, GPRC students can access resources to actively solve current challenges facing the health system in northern Alberta.
"Encouraging our students to utilize the innovative resources provided through this partnership to advance their education will set them apart in the evolving labour market," said Dr. Murray. "As the workforce diversifies, our students will be the catalyst for the provincial ecosystem and the economic drivers of our community."
As work between GPRC and Health City develops, additional updates will be provided.