News Archives: GPRC instructor wins student-nominated provincial award
Thursday, December 10th, 2020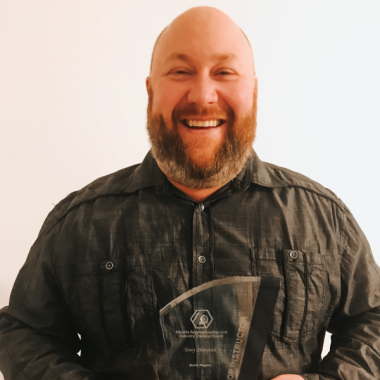 Tony Shmyruk, recipient of the 2019 Alberta Apprenticeship and Industry Awards of Excellence, Top Instructor Award for the north region.
GPRC instructor, Tony Shmyruk's interest in welding was sparked at a young age. Now he's being rewarded for inspiring GPRC students to follow in his footsteps.
As part of the annual Alberta Apprenticeship and Industry Awards of Excellence (previously Board Awards), the Fairview campus welding instructor earned the 2019 Top Instructor Award for the north region.
This award is presented to apprenticeship and industry training instructors who have performed above and beyond the expected requirements.
Shmyruk is a second-generation trades instructor and feels he learned from the best, starting with his father.
"He introduced me to my first arc flash before I learned to read or write," he says.
Shmyruk, who was born and raised in Fairview, entered the field immediately after high school. He graduated from Fairview College as a welding journeyman in 1998 and worked for many leading companies across Alberta, the Northwest Territories, Saskatchewan, and British Columbia.
He became a GPRC instructor in 2010.
Shmyruk credits his previous employers for providing him with diverse work opportunities and a well-rounded knowledge base.
"I can better relate to my students who themselves come from a wide array of specialty areas in their employment paths."
Most of Shmyruk's students are completing apprenticeship programming with an end goal of a journeyman ticket. Class sizes range from 12-24 students and can run between six and 28 weeks.
He has instructional roles in the Apprenticeship Welding and Steam/Pipe Fitting programs while also lending additional work expertise to other trade disciplines at GPRC.
In addition to his regular instructional role, Shmyruk is in his third year as the acting chair for the Automotive, Motorcycle, and Powersports Department.
He supports faculty and staff with day-to-day programming, recruitment, new programming creation, research and innovation as well as fiscal planning with responsibilities at an administrative level.
"This was unexpected and I was surprised, to say the least," he says of the award, which resulted from nominations by students.
Describing himself as a proud tradesman, he believes instructors "should have walked the walk and talked the talk" to provide the best training for students.
Shmyruk delivers a hands-on, interactive approach to teaching, with relevant industry content and "a few 'Tonyisms' along the way to make it interesting and fun."
He's pleased his students feel they're receiving an award-winning level of instruction. Although his passion for his profession supersedes his desire for recognition, Shmyruk can't help being excited.
"This award has confirmed that my methods of instruction, as outside of the box as they may be, are serving my students to be successful. It validates all the hours that my own instructors and past employers have invested in me to get me to where I am today."
"I enjoy the connections and relationships that I gain from each and every student I'm able to work with."
Shmyruk's students are not the only ones who admire his work.
Riley Buker, Chair and Instructor of the Construction, Fabrication and Operations Department, says "In the more than eight years I've worked and taught with Tony, students are always the foremost focus. Tony has a unique connectivity to his students that extends beyond the classroom."
"I have always appreciated Tony's approach to maintaining a standard that students can be proud of," says Buker.
When he is not teaching, Shmyruk enjoys hunting and fishing, working on the family cattle farm, and spending time with his family.
Congratulations, Tony.
Learn about GPRC trades and apprenticeship programs.