Michelle Turick: Awarding Excellence
Friday, July 21st, 2023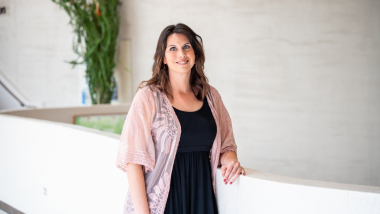 NWP Instructor Michelle Turick
Looking back at her 19-year career as both a nurse and educator, Michelle Turick can honestly say that she never anticipated how her path would unfold or the accolades she would get from her peers. In fact, much to her surprise, Turick was recently singled out with Northwestern Polytechnic's Outstanding Teaching Award.
Be it via educational achievement or rewarding employment, over the last two decades, Turik has been an integral part of various health focused teams. In 2004, Turick graduated from the very program where she now teaches - NWP's Bachelor of Science in Nursing Collaborative Degree.
While she was in nursing school, she worked as an undergraduate nurse at the Queen Elizabeth II Hospital in Grande Prairie and as a new grad she secured full-time work with the pediatric and NICU float team. Turick's next move was to Grande Cache for six years where she worked as a Public Health nurse before returning to Grande Prairie to join the Primary Care Network and the Public Health team.
As Turick explored various nursing streams, she also continued her academic pursuits. She became a Canadian Certified Nurse Educator, a title that reflects her expertise in the field of nursing education, and completed a Masters of Nursing from the University of Saskatchewan in 2016.
"Nursing is so versatile, and I have had the opportunity to work and adapt in many different areas," she said. "I have had a wonderful career as a Registered Nurse and educator."
It was in 2013 that she took a chance on a sessional nursing instructor position at NWP and she has been a Nurse Educator ever since. She became a tenured employee at NWP in 2018 and now maintains casual status as a Public Health Nurse for Alberta Health Services.
"I was grateful to be able to take one year away from my teaching duties to work back frontline nursing during COVID to help with the pandemic. It was a great experience to take back to my teaching and learning role."
As an educator, Turick takes inspiration from seeing those around her work their way up. She says it is a constant reminder that there is always so much more to learn as an educator and as a nurse. Reflecting on her career, she recognizes the role of her colleagues and clients in shaping her practice.
"I get to learn, facilitate learning, mentor, be mentored, and adapt to changes on a daily basis. It hasn't been easy, but even today looking back, I have so much gratitude for how this career has shaped me as a person," she said.
Being in an environment where she continues to learn every day is one of the many things that Turick enjoys about her job as an educator. Seeing her students go out into the world and pursue their careers is another aspect that she finds fulfilling.
When asked how she felt about receiving the Outstanding Teaching Award, Turick said, "I was touched and honoured to be nominated by my wonderful colleagues. To be elected as the recipient of this award is humbling and is encouraging to keep moving forward."
Susan Moodie nominated Turick for the award recognizing that she is a critical thinker who tackles challenges with creative strategies. She added that Turick is always the first to offer solutions in meetings, and her positive energy extends to both staff and students.
"As a mentor, Michelle creates a warm and encouraging learning environment that balances challenge and safety," said Moodie.
Turick's innovative teaching strategies have been a major factor in her success as an educator. She collaborates with her colleagues to frame lectures, labs, and clinical rotations that engage students of all learning styles. Turick also uses simulation in diverse lab settings to bridge theoretical practice into clinical practice. Her responsiveness in teaching and ability to adapt to feedback from students, faculty, and staff has also helped her to create a positive and effective learning environment.
"I have so much gratitude for how this career has shaped me as a person. I love that I have this" Turick added.