Megan Stone: Leading with
Heart
Tuesday, October 10th, 2023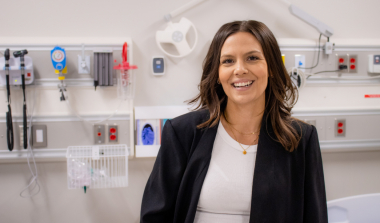 NWP Dean of Health Megan Stone
From a young age, Megan Stone was naturally inclined toward leadership and helping others. Megan's grandmother was a teacher, who inspired her with an engaging and open-ended approach to education. It was through this connection that Megan recognized the power of teaching and the impact it could have on students' lives.
Throughout high school, Megan eagerly pursued opportunities to make a difference. She participated in various leadership roles, volunteered, and excelled in academics. Little did she know that her dedication and commitment would lead her to receive a prestigious scholarship as a W. Garfield Weston Loran Scholar. This recognition fueled Megan's belief in herself as a leader. It also connected her to a network of inspiring individuals who believed in her potential.
With a heart full of passion and a desire to create positive change, Megan chose to pursue a career in nursing. She completed her nursing degree at the University of Alberta in 2010. She witnessed nurses' profound impact on patients and their families during her grandfather's battle with cancer. "The compassion and connection I observed in the nurses inspired me to become one of them," she explained. "I wanted to be the person who made a difference in someone's most vulnerable moments."
Megan's nursing journey took her to different hospitals and units, honing her skills and forming connections with patients and colleagues. However, she also experienced the darker side of the profession, where nurses were not always kind to each other. Megan added, "I wanted to change this culture somehow, so I embarked on a mission to teach nurses how to be supportive and compassionate towards one another." She knew she wasn't done with her academic journey when she completed her undergraduate degree. At the time, she wasn't 100 percent sure what was next; she just knew she wasn't done going to school. Teaching excited her, and she wanted to explore that path. In 2018, she graduated again, but this time it was with a Masters of Nursing specializing in teaching from Athabasca University.
"I worked on my Masters while on both of my maternity leaves! My daughters are 18 months apart, so I took a break in between while working on it. I love school. Some people like to crochet or craft, but I enjoy spending my spare time writing papers and studying."
Her path eventually led her to Northwestern Polytechnic, where she joined at first as a Nursing Instructor and then as the Dean of Health in 2023. These positions allowed Megan to combine her love for teaching with her passion for nursing. She has become a mentor and a leader, guiding nursing students to create positive work environments and fostering resilience among the next generation of nurses.
Megan's dedication to her students and her commitment to relational practice has made her an invaluable asset to Northwestern Polytechnic. She has formed deep connections with her colleagues and she works diligently to create a supportive community where everyone feels valued and heard. Her leadership skills and ability to foster collaboration are instrumental in building solid teams and facilitating meaningful conversations.
Throughout her journey, Megan has faced challenges and doubts but she never let them deter her. She embraces change and takes meaningful risks, continuously pushing herself to grow and make a difference. Reflecting on what she is most proud of in her academic and nursing career, she explains that it is the connection she has formed with colleagues and students at NWP.