News Archives: Leisa Floreani (nee Harder) Veterinary Medicine
Wednesday, December 3rd, 2014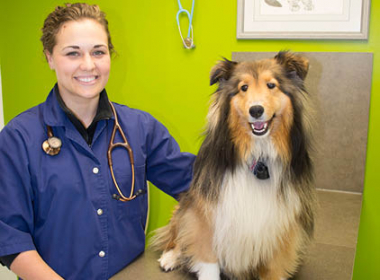 "GPRC helped transition me from high school to vet school, and made possible the achievement of an over 20-year old dream."

Leisa Floreani graduated from the Western College of Veterinary Medicine at the University of Saskatcheway with Distinction as a Doctor of Veterinary Medicine in 2015. Floreani's journey began in the Bachelor of Science program at GPRC, and speaks highly to the benefits of smaller class sizes, and strong relationships with her peers and instructors.

"GPRC offered the calibre of education expected in larger centres with the added bonus of small class sizes," Leisa says. "This, along with the affable nature of the science faculty, allowed for more classroom interaction and the ability to get to know professors better. Since admission into any accredited veterinary college requires strong letters of reference, the ability to become a face instead of just a number allowed closer relationships with professors and thus a greater chance at successful application to a professional school. I enjoyed my time at the GPRC and felt well-equipped to move on into further academic studies."

Leisa now practices at the Fairview Veterinary Clinic (formerly North Peace Animal Hospital) in Fairview, Alberta.