News Archives: Dalen Landis is a Man of Many Talents
Monday, August 8th, 2016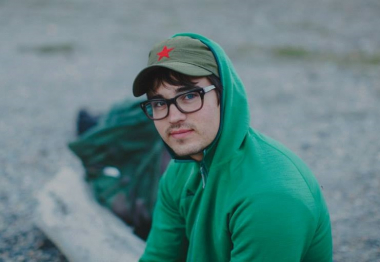 As a photographer, landscape painter, custom tiler, videographer, music festival organizer and now, professional beer brewer, Dalen Landis is not kidding when he says "I have my fingers in a few different pots."
This morning his fingers are busy filling kegs with fresh Redwillow Falls Amber Ale. A co-owner of Grain Bin Brewing, Landis has also been the company's full-time operator since the microbrewery launched in February.
Landis, 29, grew up in Wembley, AB. Out of high school, he started his post-secondary education with a year at Peace River Bible Institute. Then he enrolled at GPRC to take business administration. "My dad is a local businessman so I thought I'd give it a try," Landis says, "I enjoyed it but it wasn't exactly what I wanted to do."
He looked around GPRC and decided to add a few fine arts courses to his schedule. Landis was moonlighting as a wedding photographer and felt furthering his fine arts education might enhance his craft.
"I liked them so I just kept on taking them," he says. He liked them enough to ultimately transfer to UBCO, from where he graduated with a bachelors degree in Fine Arts, Visual Arts.
"I was surprised how much I got out of school, and wanted to see how much more I could," he says.
Starting at UBCO in 2010 Landis was concerned that, joining up in third year, his work might not measure up those who had started there or had transferred from larger institutions. He didn't need to worry. "I actually felt like the quality of the schooling I got at GPRC stood out," he says.
To make money during the summers, Landis started a custom tiling business. He also - accidentally - started a music festival. Landisfest was meant to be a one-time farewell party when he and his wife moved to Kelowna. Hugely popular, it's now on its sixth year.
He credits his business education at GPRC for giving him the necessary tools to live a life of creative entrepreneurship. "It seemed like dry material at the time but a lot of it has definitely stuck with me," he says.
Landis also credits Edward Bader, one of his Fine Arts instructors at the college. "He took me under his wing and showed me the ropes," he says.
Bader, for his part, says he remembers the positive impact his own instructors at the University of Lethbridge made on his life in the 1970s. That memory inspires him to help his students.
"I just want to see them succeed," he says. They have a unique opportunity with such small class sizes at GPRC, Bader says. "We have much more personal relationships with students so we can really help build and develop their skills."
Bader says Landis' combination of a Business Administration certificate and Fine Arts degree was a smart move as artists must also be entrepreneurs. "I think Dalen exemplifies this. He's found ways to survive and do creative things at the same time."
Landis' latest endeavour is hand-painting special edition bottles of Grain Bin Brewing beer. "You never have to stop doing what you love doing," he says. "It's just a question of trying to find a way to incorporate the art into the work that you already have."